Mon 7 Mar 2016
Fred Olsen shoot, the Caribbean
I'd been commissioned again by the client for a shoot on one of the company's other ships this time, The "Balmoral" a slightly bigger ship than "Black watch" the location for this shoot would be the Caribbean.
About a seven day shoot was planned, flying out to Antigua first to meet the ship, then sailing to St Kitts and Tortola, ending the cruise in Miami where we would overnight in the city and catch a flight back to the UK the next day.
Using four models for the trip, the first day of the shoot we needed to get destination shots around Antigua. 

The ship was due the day after our arrival and the client wanted aerial shots of her as she cruised into Antigua around dawn the next day.
So at around dawn, I was up and out in a helicopter to reach the ship before she got close to the Island, photographing her cruising at sea, then seeing her arrival in Antigua, showing the island as a backdrop.
I sat in the front of the helicopter with the side door next to me completely removed, this way I could have a clear view and free movement, which enabled me to hang out slightly for better angle's, whilst still being fully strapped in.


On the ground was Jeremy Bates, producer from Two Four and on the flight with me was Mike Bird and David Mackay, aerial cameraman, shooting movie footage with his Cineflex system. I knew David as we had worked together before. He had his camera mounted on the front of the helicopter with him controlling it's movements from inside the cockpit sitting in the rear seat.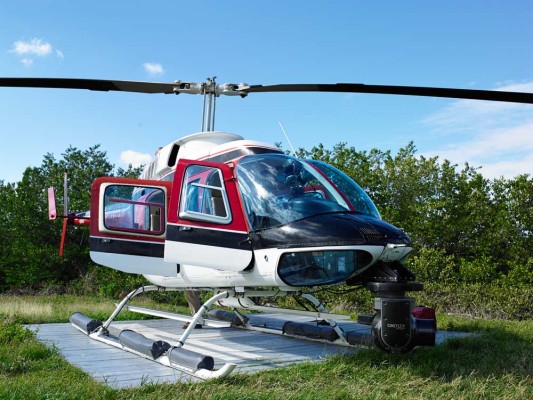 For the way I was positioned shooting out of the side door, occasionally I had to get the pilot to fly slightly side on towards the ship to get straight on bow shots, these were great angles for the ship, making her look very sleek and elegant in the water. The weather turned out to be gorgeous, the ship arrived on time, it was an amazing flight with a series of great shots captured.
We boarded the ship later that day, and I started shooting on board scenes as we cruised. Eventually arriving at the island of St Kitts. Off on shore here with everyone, to shoot destination shots around the Island. On next to Tortola for more of the same, eventually cruising into the port of Miami, our final destination.

A massive stress disembarking here with everybody, plus luggage and all the equipment not to mention getting processed through US immigration, this all took quite some time, but we finally made it off and arrived at the hotel.

Later with some time spare before the evening, I looked around the gorgeous Miami seafront taking some final shots, before we returned home next day after a long, but amazing shoot.