Tue 8 Mar 2016
Norway aerial shoot
Norway aerial photography for Fred Olsen Cruise Lines. Following the success of the last shoot on board the Braemar for Fred Olsen, I was commissioned again for an aerial shoot of the cruise liner Braemar on it's cruise around Norway.
With a schedule in place, myself, client Mike Bird, and producer Jeremy Bates, travelled to Bergen then onward by car to Flam Fjord, to meet the ship which was due to arrive at dawn the next day.
Arrival..
Our helicopter for the shoot had been flown there earlier in the afternoon. Our pilot had landed it in the field next to the hotel situated right on the edge of the Fjord, amazingly next to where Braemar was due to dock next day at dawn!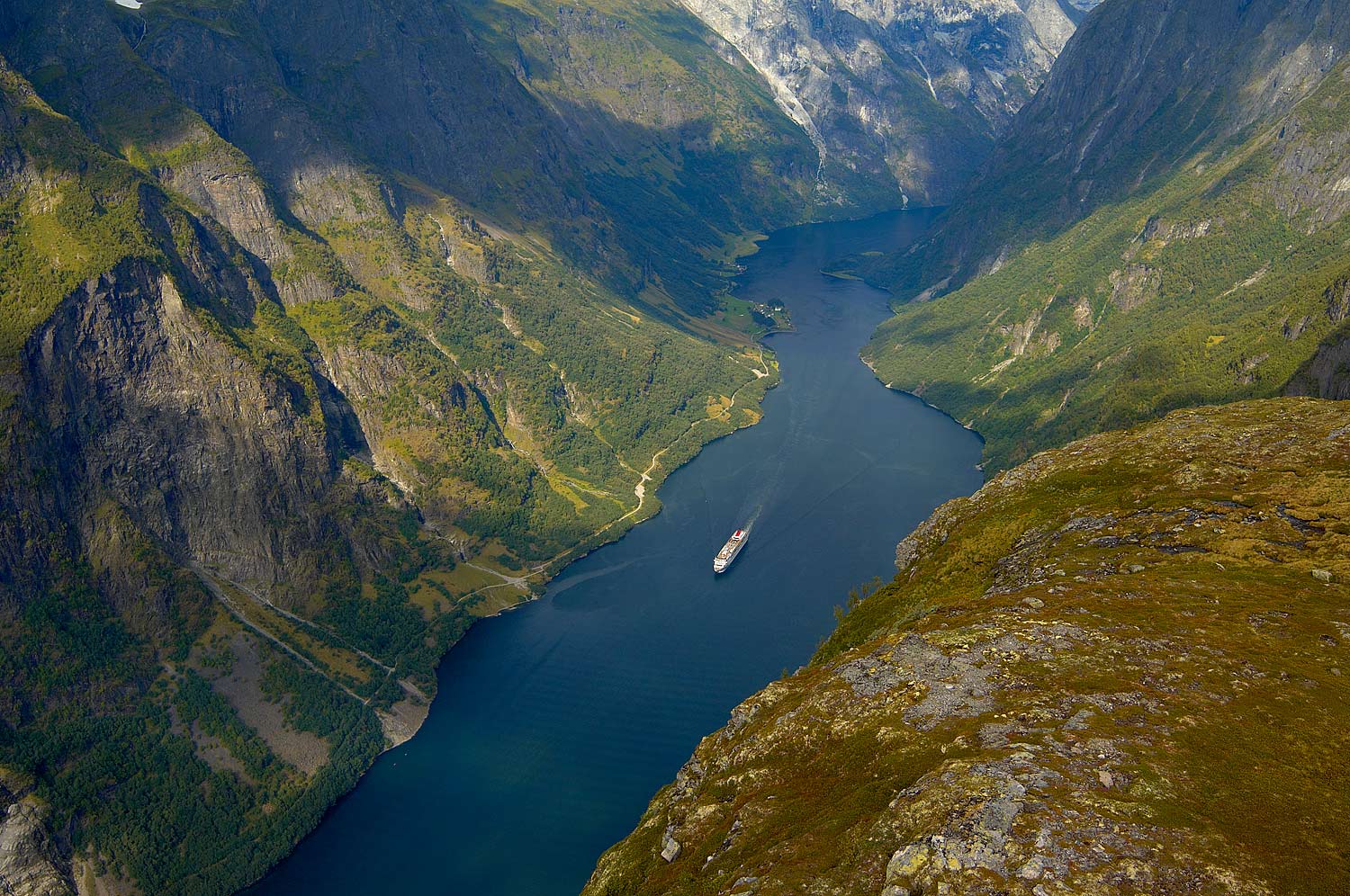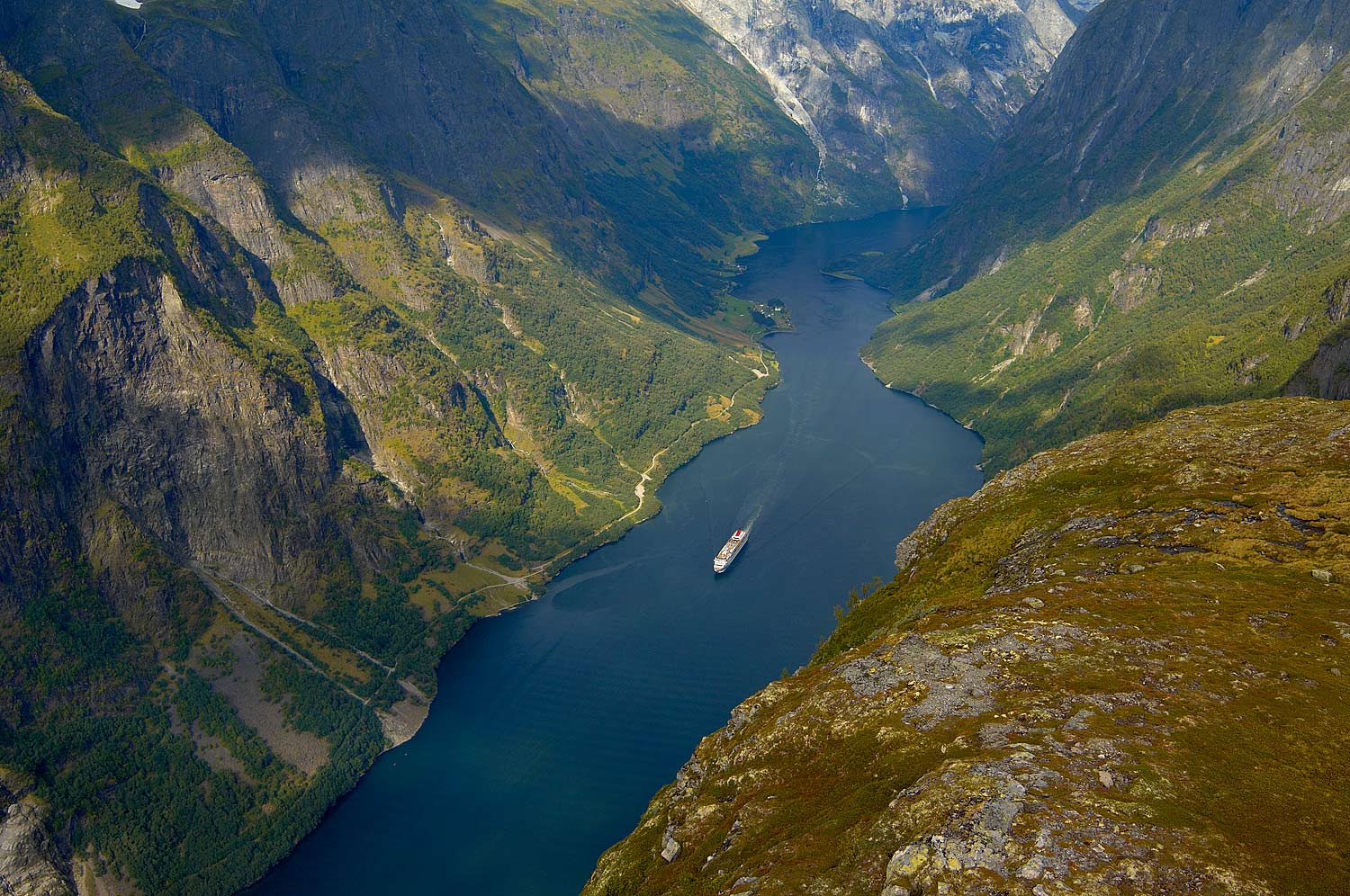 There was a feeling of calm and stillness about the landscape, when I arrived, seeing the crystal clear water of the Fjord surrounded by mountains, I hoped this weather would hold for the flight and shoot next day.
I got my equipment organised  soon after arrival, to be ready and prepared to photograph the ships arrival in the early hours.
The shoot…
Braemar was due to stay docked for just a few hours while the passengers looked around on shore, it would then depart and continue on it's cruise around Norway.
We had to be up in the air just as it sailed to start shooting. I had only an hour's flying time to capture as many dramatic shots as I could before before the ship sailed too far away.. The helicopter was rigged with a Cineflex camera mounted outside on the front with the cameraman controlling it from inside the cockpit sitting in the backseat.

Shooting my still's I sat on the front seat next to the pilot with my side door completely open to enable me to lean out. This gave me the ability to have more freedom of movement with my two cameras. I'd fixed both bodies with different focal length zoom lenses to quickly capture long and wide shots.
Our Norwegian pilot was experienced on aerial shoots so knew the kind of angles we needed. When I saw a waterfall cascading down a sheer cliff face with the Fjord below, I asked how close he could safely get to the cliff face! He was very cool and managed to manoeuvre into a perfect position for me to get the incredibly dramatic shot I wanted!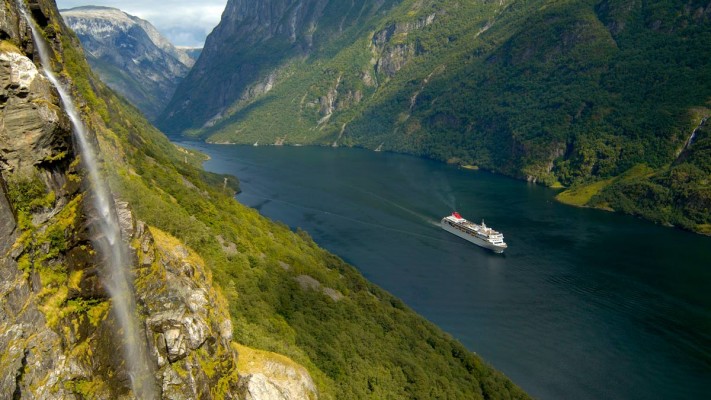 On the flight back we flew high over the mountains with distant water below to land back at Flam, an amazing and successful aerial shoot completed….